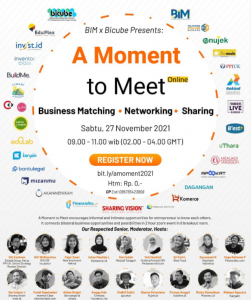 Hi Inventors!
Apakah Kamu Sedang Growth Hack Start Up?
Jangan Sampai terlewat,
kalau Growth Hack Start Up itu bisa dicapai dengan Networking antar Pelaku Start Up, Mentor Expert, dan Para Investor!
Inilah kesempatan kamu untuk bertemu dengan mereka di
BIM x Bicube Presents: A Moment to Meet
Business Matching – Networking – Sharing
Sabtu, 27 November 2021
09.00 – 11.00 wib (02.00 – 04.00 GMT)
A Moment to Meet encourages informal and intimate opportunities for entrepreneur to know each others. It connects bilateral business opportunities and possibilities in 2 hour zoom event in 8 breakout room.
Kamu bisa ketemu sama:
Yeti Hestiati – Gudang Rempah Indonesia – Startup Committee Perbanas Institute
Fajar Dewi Arumsari – New Investment – Rekind
Oki Earlivan – Founder Edulab Group, Ketua PPI United Kingdom 2021, Oxford Strategy Review Director
Firman Anggriawan – CEO Buildme.id, Staf Ahli Kemendagri
Intan Maulida Lazuardini – Partnership Officer Komerce.id
Saraswati Nuraisyah – Head of Marketing Dagangan.com
Nanca Oktaviano – Core Team Nujek.id
Siti Widharetno Mursalim – Koordinator Bicube Incubator
Sri Esti Lutfiana – Owner D'Best Food
Dwi Indah Anggraini – CEO Menjadi Tangguh
Yundi Supriadani – CEO Akanmenikah.com, PPBT Kemenristek Awardee, New Nexus Energy Awardee
Akbar Drajat – CEO Bantulegal.id, CEO Uthara, Tim Pasar Juara Jawa Barat
Ricky P. Ramadhan – Head of Digital Mizanmu.id
Yoga Rahman Pradipta – BDE Finansialku.com
Anggy Edo – Cofounder Cintessa, City Lead Founders Live Bandung
Nur Islami Javad – CEO Invst.id, Chief DEF Sharing Vision Indonesia, Cofounder Bimindonesia.id, EDEF Linxbrain Indonesia
Jangan Sampai Kesempatan ini terlewat yaa!
Yuk Register di
bit.ly/amoment2021
bit.ly/amoment2021
bit.ly/amoment2021
CP: Esti 085735423808